Things that do not spark joy:
Blasting furnaces

Blasting air conditioning

Sick actors who are blowing their runny noses and should've stayed home instead of coughing their germs onto your book

Having to find a spot to put your multiple bags

Sitting on dirty floors

Girls with curling irons

A long line at the table with an absent monitor

A monitor who hoards all of the lists making it impossible to gather information without having to ask for it

Audition Update

Actors "catching up" in holding rooms competing in self-promotion contests by only answering the "What have you been up to?" question with career related news

Loud, fake laughter

Cramped, crowded bathrooms with muddy footprints, stray hairs, and odd smells

The fact that it's called a HOLDING ROOM
Things that spark joy:
Hearing the monitor call your name

A sign in sheet where you can see how many people are still before you

Seeing an old friend and having a meaningful conversation

Meeting a new person and bonding over something non-audition related

Finding an empty chair to sit in

Reading a good book

Listening to great calming or energizing music

Tuning out of the noise and learning something in a podcast

Staring out of the window onto a sunny blue sky

Doing the tasks that make you feel prepared before your audition well-before you have to line up (stapling that HS/resume, hole punching your sheet music, changing out of your street clothes, etc.)

Being warmed up before you're lined up

Entering the room already grounded and centered, whether that's from a pre-audition workout, a morning meditation, having already had breakfast and coffee, etc.

Catching a smile from someone else and giving one back

Multitasking by working on something that makes you feel accomplished while you wait
How else can we spark joy in the holding room for ourselves and for others?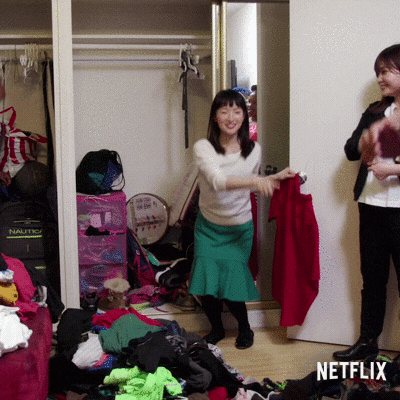 Perhaps finding more of that will help us all walk into the audition room with Marie's happy, buoyant bounce. 
Please reload