For audition warriors thawing into the season of spring, this is a metaphorical image that has served me in my most impatient moments, inaccurate compare despair measurements, and holding rooms that resemble sardine cans.
I only hope it transforms any feelings of scarcity into abundance, and gives you a deep breath right alongside of mine.
The Carousel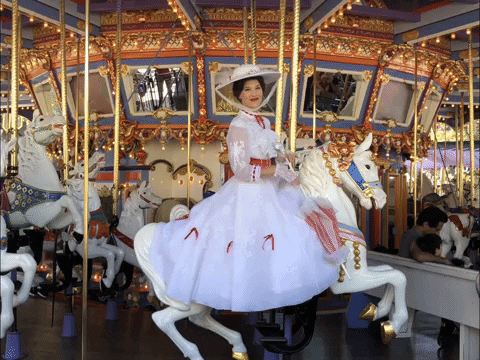 I feel that a long life as an actor in theatre is often like waiting in a long line for a carousel. 
Not the rinky-dinky, run down kinds you find at town fair carnivals, but the most majestic of merry-go-rounds, flawlessly designed by your wildest of fantasies, each horse (or unicorn) a dream you can't wait to ride.
Unlike thrill-seeking rides like rollercoasters with twists, turns, and loops, a carousel moves at a tortoise speed, more calm and on our level.  We don't have to crick our necks looking up or down to watch riders zip and zap over monstrous heights with our eyes squinting or stomachs churning in anticipation.  Instead, it's right before us, slowly and steadily rotating so close we can hear the twinkling music.  Nothing goes blurry either as we watch the carousel twirl, and even though the line may be long, it still feels within our grasp.  
The best part is while we are on that line, we get to chose how we experience the wait.  The wait can be our gift of time.
Because we all know the line can be a miserable sweat bath, resembling a sticky summer with swamp ass at somewhere like Six Flags with no shade, overpriced water bottles, and middle schoolers grossly making out everywhere.
Or it can be like something out of Disneyland or The Wizarding World of Harry Potter, so enchanting and engaging that we almost forget we are even on a line.
We get to choose because after all, the line is a part of the experience too.
Sometimes, we curiously watch the people already on the carousel pondering how they got their token first; did they have a fast pass?!
But in our better times, we chose to zoom in on the people gliding by who we love or who inspire us, cheering them on as they rise up and down, snapping their photos as they catch the wind in their hair, locking eyes with their souls outside of their skin, and tasting their contagious joy.  It can almost feel as good as if it were our own actual turn.
Sometimes, we also may pop off the line and trust that other people and the distance we've already walked will hold our spot, knowing we can always return.
Sometimes, we learn a great deal about ourselves, grow our resilience and faith like a garden, and even find our soul people waiting right beside us.
And then when we finally do get to ride, we know how precious and how fleeting this treasured time will be.
All I hope is that we let our hair down, hop on the fiercest most fabulous horse, see our people who are both on line and on the ride, wave like we are five, and LIVE.
Because soon we will be back where we started and who knows how long it will be until our next turn.  
To loving "the line" together.
About our Guest Blogger: Tara Tagliaferro aka Tara Tag is a faerie godmomma style song coach who LIVES to guide you to the royal ball and make whatever song you are singing feel like it was written just for you. Tara is the co-founder of BYOSong, and she leads women's circles with The Wander Woman Sisterhood.  Creating safe space for people in her community to express themselves just may be one of her favorite things! 
Please reload